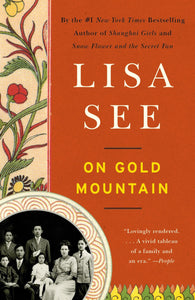 On Gold Mountain - Lisa See
In 1867, Lisa See's great-great-grandfather arrived in America, where he prescribed herbal remedies to immigrant laborers who were treated little better than slaves. His son Fong See later built a mercantile empire and married a Caucasian woman, in spite of laws prohibiting interracial marriage. Lisa herself grew up playing in her family's antiques store in Los Angeles's Chinatown, listening to stories of missionaries and prostitutes, movie stars and Chinese baseball teams.
With these stories and her own years of research, Lisa See chronicles the one-hundred-year-odyssey of her Chinese-American family, a history that encompasses racism, romance, secret marriages, entrepreneurial genius, and much more, as two distinctly different cultures meet in a new world. 
Paperback
1128NVB
---