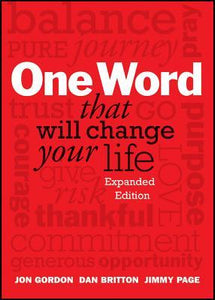 One Word That Will Change Your Life - Jon Gordon, Dan Britton, & Jimmy Page
"One Word "explains how to simplify your life and business by focusing on just ONE WORD for the entire year. This full-color second edition will includeAdditional impact stories of One Word (with pictures) in chapter 7A new chapter called "One Word Legacy," which identifies and describes the legacy readers will leave as a result of their annual One Words.An additional 6 dimensions to the Action PlanAdditional material on developing the One Word for teams and families, specifically how a group of people can also have a One Word

The simplicity of choosing one word makes it a catalyst for life-change. Clutter and complexity lead to procrastination and paralysis, while simplicity and focus lead to success and clarity. Readers will learn how to develop simplicity in their world and develop a discipline for life.
Hardcover
---