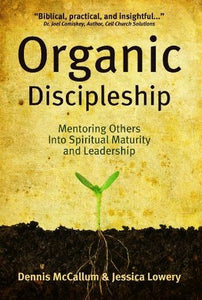 Organic Discipleship: Mentoring Others Into Spiritual Maturity & Leadership (Used Paperback) - Dennis McCallum & Jessica Lowery
Two leading disciplemakers explain how mentor disciples in one of the most successful discipling based church in North America. Biblical and practical, this book gets down to the real questions in the disciple making process:
What is the biblical case for making disciples?
How can I disciple others if I was never discipled?
How do I select someone to disciple?
How do I get started?
How do I become the kind of close friend that can influence another?
What sort of goals should we set?
What kind of study content is most helpful?
How can I foster a love of prayer in another?
Why are some models followed more than others?
How can I create a life-long thirst for doing ministry?
How can I effectively coach my friend in his or her ministry?
When can I release a disciple to independence?
These authors speak from a ministry that has raised up hundreds of house church leaders during their combined 60 years of experience.
---