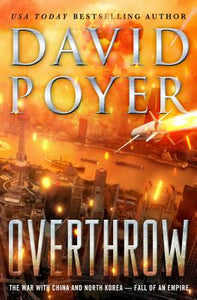 Overthrow (Used Book) - David Poyer
The United States and their Allied forces struggle to survive world war with China in this compelling, realistic thriller, the next in the Dan Lenson series

World War III continues in Overthrow, the next novel in the acclaimed series featuring Admiral Dan Lenson as the Allies converge against China, North Korea, and Iran in an explosive series of events. Admiral Lenson leads Operation Rupture, the invasion of South China, in a bid to finally end the war and restore peace. Meanwhile, Captain Cheryl Staurulakis fights to take a radical new "super ship" to sea, though its power and capability may introduce more risk than reward.

In Washington, Dan's wife Blair conducts secret negotiations with a rebellious faction in Beijing, hoping to bring an end to the war, but her plans may be foiled by those who want outright revenge on China, not peace with them. In western China, Teddy Oberg's guerrilla band grows into a major insurgency, and the former SEAL master chief embraces his new role as an Islamic resistance leader. Sergeant Hector Ramos raises the flag of freedom in Taiwan while fighting his own personal demons, and in Seattle Dan's daughter, Nan Lenson, fights to save the world from a dangerous new epidemic.

But as the Allies plot an endgame to the war, the complicated dance of global warfare, on land and at sea, will finally trigger the nuclear Armageddon the entire world has feared for nearly a century.
Hardcover
0124ML
---