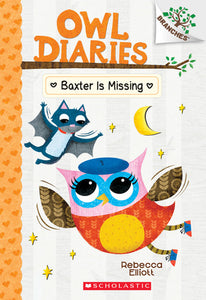 Owl Diaries Baxter is Missing - (Used Paperback) - Rebecca Elliott
Eva's pet bat, Baxter, is missing!

In book 6, a famous author is coming to Treetopolis! Eva and her classmates each have to write a story to share with the author. Eva's excited! But then something terrible happens: Her pet bat, Baxter, goes missing! Eva can't think of anything to write about—except how much she misses Baxter! With help from her friends, Eva looks everywhere for Baxter. She even hangs up MISSING posters! Where could Baxter be? And will Eva finish her story in time for the author's visit?
0907DS
---