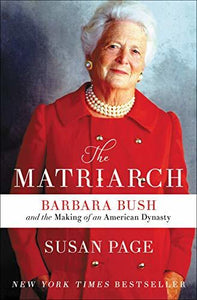 The Matriarch (Used Hardcover) - Susan Page
A vivid, immersive biography of former First Lady and Bush clan matriarch Barbara Bush, one of the most storied women in American political history.

Barbara Pierce Bush -- political powerhouse, Bush family matriarch, former First Lady, and celebrated public servant -- has not been the focus of a robust, mainstream biography for over a decade.

In The Matriarch, her story is revived and told in full: from growing up in Rye, New York to becoming America's First Lady, every tragedy and triumph is rivetingly told. An institution in and of herself, Barbara Bush's role in American history cannot be understated. Beginning while Second Lady and through her time as First Lady, she invested herself deeply in expanding literacy programs in America, launched efforts to combat homelessness, and eventually became the first woman since Eleanor Roosevelt to speak at her party's national convention in 1988. While her own political beliefs sometimes differed from her husband's, Barbara Bush nevertheless became an astute political campaign strategist, helping him to gain the nomination and win the election.

Barbara Bush's accomplishments, struggles, and contributions are many. Now, Susan Page brings them all into one place in The Matriarch, a book certain to cement Barbara Bush as one of the most unique and influential figures in American history. 
0724RT

---