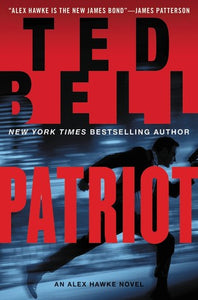 Patriot (Used Hardcover) - Ted Bell
Intelligence officer Alex Hawke takes on power-hungry Russian President Vladimir Putin, who is wielding a terrifying new weapon, in the latest adrenaline-fueled thriller in Ted Bell's New York Times bestselling series

In corrupt Russia, an erratic Vladimir Putin is determined to forge his country into a formidable superpower once again. He intends to redraw the map of Europe, and will go to impossible extremes to realize his fantasies—including shooting down a civilian airliner packed with tourists bound for China. Kremlin scientists have developed a radical new weapon that could forever alter modern warfare. NATO, locked in a tense standoff over Ukraine, Poland, and Estonia, knows Putin will not hesitate to use it. But there is one man who can bring the world back from the brink: Britain's foremost intelligence asset, Lord Alexander Hawke.

The intrepid MI6 officer's latest challenge begins in the Gulf of Aden and soon has him searching for the link to a series of bizarre assassinations. Spies are dying all over the world—from London, Washington, D.C., and Maine, to Moscow, and even the glittering Cote d'Azur. In the murky world of counterterrorism and high-stakes intrigue, the odds have never been higher. Once again, Alex Hawke must save the world . . . one bullet at a time.
0606SR
---