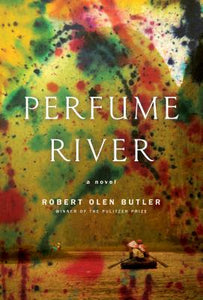 Perfume River (Used Paperback) - Robert Olen Butler
From one of America's most important writers, the Pulitzer Prize-winning author of A Good Scent from a Strange Mountain , comes Perfume River , an exquisite novel that examines family ties and the legacy of the Vietnam war through the portrait of a single North Florida family.

Robert Quinlan is a seventy-year-old historian teaching at Florida State University, where his wife Darla is also tenured. Their marriage, forged in the fervor of anti-Vietnam War protests, now bears the fractures of time, with the couple trapped in an existence of morning coffee, solitary jogging, and separate offices. The cracks in Robert and Darla's relationship remain under the surface, whereas the divisions in Robert's family are more he has almost no relationship with his brother Jimmy, who became estranged from the family as the Vietnam War intensified. As Robert and Jimmy's father, who is a veteran of World War II, draws near to the end of his life, aftershocks of war ripple across the family once again, with Jimmy refusing to appear at his father's bedside. And an unstable homeless man, whom Robert meets at a restaurant and at first takes to be a fellow Vietnam veteran, turns out to have a deep impact not just on Robert, but on all of the people closest to him.

A profound and poignant novel that continues Butler's exploration of America, war, and the family, as begun in A Good Scent from a Strange Mountain and A Small Hotel , Perfume River is a powerful and moving portrait of the challenges of close relationships, the resonance of personal choice, and the American experience.
0627ML
---