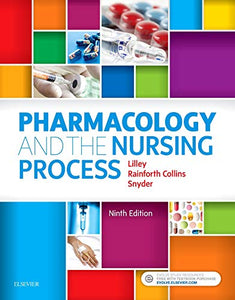 Pharmacology Online for Pharmacology and the Nursing Process (Used Paperback) - Lilley, Collins & Snyder (9th Ed)
9th Edition.
Organized to match Lilley's Pharmacology and the Nursing Process, 9th Edition, Pharmacology Online features a series of self-paced learning modules designed to enhance your understanding of pharmacology. This hybrid online course makes it easier for you to learn everything from basic principles to dosage calculation and more - all within the context of the nursing process and prioritization. Using a key drug approach, the course focuses on need-to-know content pertinent to the NCLEX(R) along with the latest clinical updates in areas of major new drug classes, new drugs and therapeutic uses, and discontinued drugs. To promote quality and safety in nursing, this course reflects the QSEN competencies highlighted in the textbook. In addition, unique Roadside Assistance videos use animations to explain difficult concepts, while case studies, care planning activities, and NCLEX(R) exam-style quizzes help you understand how drugs work and how to administer them safely in the clinical setting.
Condition: Used book in Very Good condition.
---