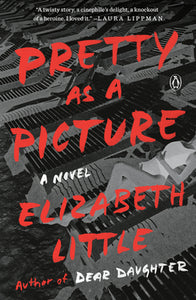 Pretty as a Picture (Used Paperback) - Elizabeth Little
Some girl dies.

It's not much to go on, but the specifics don't concern Marissa. Whatever the script is, her job is the same. She'll spend her days in the editing room, doing what she does best: turning pictures into stories.

But she soon discovers that on this set, nothing is as it's supposed to be--or as it seems. There are rumors of accidents and indiscretions, of burgeoning scandals and perilous schemes. Half the crew has been fired. The other half wants to quit. Even the actors have figured out something is wrong. And no one seems to know what happened to the editor she was hired to replace.

Then she meets the intrepid and incorrigible teenage girls who are determined to solve the real-life murder that is the movie's central subject, and before long, Marissa is drawn into the investigation herself.

The only problem is, the killer may still be on the loose. And he might not be finished.
0718SR
---