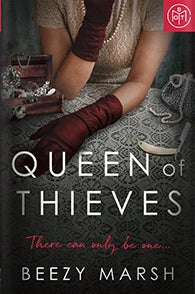 Queen of Thieves (Used Hardcover) - Beezy Marsh
Gangland was a man's world - but the women knew different


London, 1946.

Alice Diamond, the Queen of the Forty Thieves, rules over her gang of hoisters with a bejewelled fist. Nell is a slum girl from Waterloo, hiding a secret pregnancy and facing a desperately uncertain future.

Sensing an opportunity to exploit Nell's vulnerabilities, Alice takes her under her wing and, before long, Nell is experiencing the secret world of hoisting, with all the dangers - and glamorous trappings - that comes with this underworld existence.

Alice has a longstanding feud with Billy Sullivan's all-male gang in Soho, and thinks Nell could be a useful weapon in her vendetta. But Nell has a secret agenda of her own, and is not to be underestimated. And the more she is exploited by both Alice and Billy, the more her hunger for revenge grows. As she embraces the seedy underbelly of London, will she prevail in carving out her own path to power and riches...

...and crown herself the Queen of Thieves?

From Sunday Times bestselling author Beezy Marsh comes a thrilling new crime saga series, perfect for fans of Sam Michaels, Martina Cole and Jessie Keane.
0919ML
---