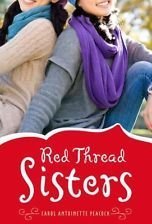 Red Thread Sisters (Used Paperback) - Carol Antoinette Peacok
A poignant and compelling story of friendship, family, and love

Wen has spent the first eleven years of her life at an orphanage in rural China, and the only person she would call family is her best friend, Shu Ling. When Wen is adopted by an American couple, she struggles to adjust to every part of her new life: having access to all the food and clothes she could want, going to school, being someone's daughter. But the hardest part of all is knowing that Shu Ling remains back at the orphanage, alone. Wen knows that her best friend deserves a family and a future, too. But finding a home for Shu Ling isn't easy, and time is running out . . .
0828DO
---