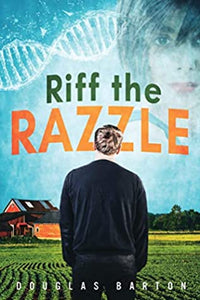 Riff the Razzle (Used Book) - Douglas Barton
Jack Barley isn't sure what he expected from his first visit to the big city, but it certainly wasn't black-suited gunmen swooping in to kidnap him. He wouldn't have bet on religious fanatics vaporizing whole city blocks or on the green-eyed beauty who rescued him either—and yet now he's on the run, more confused than ever.

With scalpel-wielding corporate scientists and the cultic Sons of the Eternal Ether inexplicably out for his blood, Jack must rely on Jill—his mysterious green-eyed savior with the Mona Lisa smile—if he ever wants to make his mark on the world. Besides, he has to survive: he left old Uncle Elmer and sweet Grandma Ruth back on the farm. Funny how he hasn't heard from them.

But what Jack doesn't know is that he carries inside him a secret with the power to bring civilization to its knees. Ignorance isn't bliss after all—in fact, it might just get them both killed.

Riff the Razzle is the hilarious new sci-fi comedy from Douglas Barton, and is a must for fans of Douglas Adams and Terry Pratchett.
Paperback
0810LO
---