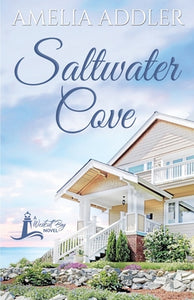 Saltwater Cove (Used Paperback) - Amelia Addler
At 48 years old, Margie Clifton never expected to be starting her life all over again. But when her brother gifts her a property on San Juan Island, that's exactly what she decides to do. After all, it's the perfect place to start a new business venture, provide a second home for her adult children, and recover from her nasty divorce. And if her new life happens to involve the town's gruff and ruggedly handsome Chief Deputy Sheriff? All the better.


The last thing Hank Kowalski wants is an emotional entanglement. It's only been two years since his beloved wife passed, and there's no way his daughter is ready to accept him dating anyone new. Still, there's something about Margie's quiet strength and beauty that draws him in, making him wonder if maybe a fresh start-and possibly a new love-is exactly what he needs in his life.


But Margie is harboring a secret-a dark one that threatens to destroy the new life she's worked so hard to build. Can Margie and Hank find the courage and faith to overcome all that stands between them? Or will their second chance at happily ever after be lost forever?
0815ML
---