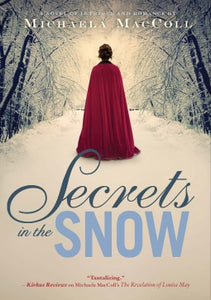 Secrets in the Snow (Used Hardcover) - Michaela MacColl
What if you had to choose between your family and true love?

Jane Austen's family is eager to secure her future by marrying her off. But Jane is much more interested in writing her novels and finds every suitor lacking in one way or another. That is, until the mysterious Mr. Lefroy arrives on the scene.

Much like the famous character Mr. Darcy, from one of the real-life Jane Austen's famous novels, Mr. Lefroy initially seems arrogant and distasteful. But the more Jane gets to know him, the more she discovers his kind nature. Can it be that he's the suitor for her? Before Jane can find out, her cousin is accused of aiding the French, England's enemy, and Jane finds herself busy proving her family's innocence, solving a murder, and facing a decision that might mean the sacrifice of her one true love.
0718ML
---