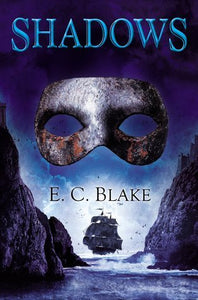 Shadows (Used Book) - E.C. Blake
In Masks, Mara Holdfast's life changed forever. As the daughter of the Autarch's Master Maskmaker, she had a clearly defined future: a quiet, ordered life in the capital, making Masks with her father and doing work important to the ruling Autarch. But when her Mask, specially made by her own father, cracked and fell to pieces during her Masking ceremony, Mara was exiled from everything she once knew. Soon, she becomes part of an underground rebellion, rejecting the unjust rules of a Masked society and uncovering a horrifying plot of mind control over the entire population of the empire.

In a moment of crisis, Mara finds herself possessed of a volatile magical power that neither she nor any of her allies can truly control. In Shadow, Mara faces terrifying new challenges and dangers as she struggles to understand her unprecedented ability to use all types of magic—and to tear magic from the living bodies of those around her. With the arrival of Chell, a young man from across the sea, the world beyond the borders of the Autarchy of Aygrima begins to make itself felt. Then an act of brutality tips Mara dangerously close to madness…and in the midst of a desperate and bloody battle, she discovers just how horrifying her power can be….
Hardcover
0321CR
---