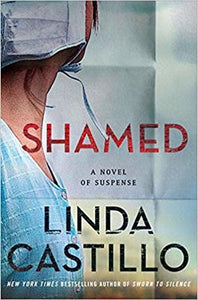 Shamed (Used Hardcover) - Linda Castillo
An Amish grandmother is murdered on an abandoned farm, her seven year old granddaughter abducted. Chief of Police Kate Burkholder plunges headlong into a case that quickly becomes a race against the clock. She knows the longer the girl is missing, the more likely a tragic outcome. The family of the missing girl is well thought of—a pillar of the Amish community. Their pain is palpable and they cooperate in every way, but Kate soon learns they're keeping secrets...

The investigation takes Kate to an isolated Old Order Amish settlement along the river in southern Ohio. At first, the community seems upstanding and helpful. But when Kate starts asking questions, they stonewall her—and the situation soon becomes dangerous. What are they hiding and why?

After an attempt on her life, Kate unearths a haunting and tragic secret that changes everything she thought she knew about the family for whom she is fighting, the Amish community as a whole—and everything she thought she knew about herself. Will she reach the girl in time to save her life?
0807RT
---