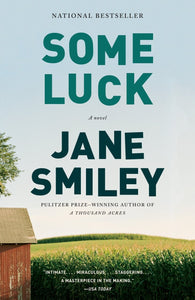 Some Luck (Used Paperback) - Jane Smiley
1920, Denby, Iowa: Rosanna and Walter Langdon have just welcomed their firstborn son, Frank, into their family farm. He will be the oldest of five.
       
Each chapter in this extraordinary novel covers a single year, encompassing the sweep of history as the Langdons abide by time-honored values and pass them on to their children. With the country on the cusp of enormous social and economic change through the early 1950s, we watch as the personal and the historical merge seamlessly: one moment electricity is just beginning to power the farm, and the next a son is volunteering to fight the Nazis. Later still, a girl we'd seen growing up now has a little girl of her own.   
       
The first volume of an epic trilogy from a beloved writer at the height of her powers, Some Luck starts us on a literary adventure through cycles of birth and death, passion and betrayal that will span a century in America.
1018ML
---