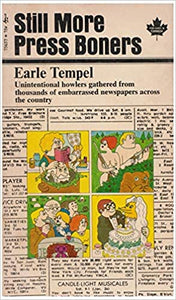 Still More Press Boners - Earle Tempel (Vintage, 1971)
Vintage book from 1971.
It contains hundreds of classic bloopers from newspapers and other printed material. Some of these are simple typographical errors that sufficiently alter the meaning of a comment as to make it hilarious. Others defy any explanation as to how they ever could have made it into print or what the proofreader was thinking to let such material pass. Most of these press boners are funny enough that you'll have tears in your eyes from laughing.
Condition: Used book in very good condition. Stamp marked on first page. 
Paperback 
1023LW
---