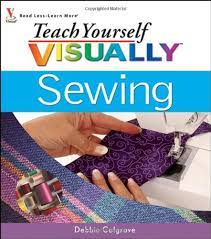 Teach Yourself VISUALLY Sewing (Used Paperback) Debbie Colgrove
Sewing is attracting lots of young people looking to express their individuality by making their own gifts and fashions. Fueled by popular home decorating shows like Trading Spaces and Design on a Dime, interest in making placemats, window treatments, and other decorative items for the home has risen as well. More than 100,000 people took sewing classes at Jo-Ann Stores in 2004! This book is like getting a private sewing lesson on every spread. It shows readers how to operate a sewing machine, choose fabrics, do a variety of basic stitches, and follow patterns. Proceeding at their own pace, readers see and learn how to hem and mend garments and make simple sewing projects, such as a messenger bag and a gift bag for a bottle of wine.

Debbie Colgrove (Elizaville, NY) has served as the sewing expert for About.com since 1997. She teaches 4-H sewing groups and has been employed as an assistant manager at a fabric store. She also has sewn for local manufacturers as an independent contractor and has produced her own line of sewn products. Colgrove has a wealth of experience on both home and industrial sewing machines.
0803NVB
---