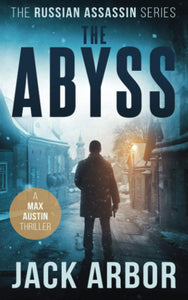 The Abyss (Used Paperback) - Jack Arbor
Every betrayal begins with trust.
A man fighting to save his heritage. A race to find a secret cache of documents. A deadly family secret revealed.

It's Christmas Eve. Max and Kate are convalescing in the snowy woods of Colorado when violence strikes. On the run again, the ragtag family must trade their deepest secrets for safety.

Tormented by mysteries from his past, Max learns the truth about his father's treachery. A vast cache of documents that expose the inner workings of the Russian government are hidden from sight. The CIA, MI6, China's Ministry of State Security, and other clandestine groups are hunting for the secret archive along with Max's mortal enemies.

In a race against time, Max visits the grandiose ski resort of Chamonix and escapes a fateful train ride through the South of France before trekking across the treacherous borders of southern Russia. Deep in the heart of Siberia, Max must confront his past to decrypt his father's mysteries before his enemies beat him to the prize. Will Max uncover the Vienna Archive and reverse his family's fortunes before it's too late?
Max Austin, #5
0809LO
---