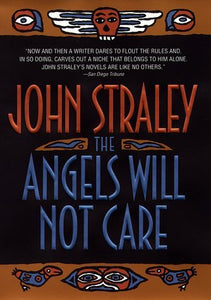 The Angels will not Care (Used Hardcover) - John Straley
From award-winning author John Straley comes a masterfully plotted, stunningly original new mystery as beautifully stark and delightfully unpredictable as the Alaskan landscape he has so perfectly captured.
Trouble is Cecil Younger's business. As a private investigator, it comes with the territory. But lately the kind of trouble he's seen is definitely not good for business. Getting blamed for a friend's suicide has hurt both his conscience and his reputation. And things have gone straight to hell since then. His most thrilling case of surveillance of a lawyer's chicken coop to see who's stealing her fowl.
Enter Sonny Walters of the Great Circle Cruise Lines, whose first-class ship has a first-class problem. It seems there's some controversy surrounding the ship's doctor. More than that, Mr. Walters won't say, except that he'll give Cecil free rein--as well as free passage and an unlimited bar tab--to get to the bottom of the unsavory rumors. Younger jumps at the opportunity.
Soon he, housemate Toddy, and live-in love Jane Marie set sail on the S.S. Westward. All Cecil expected to find was an incompetent doctor and the excuse the cruise line needed to fire him. Instead what Cecil finds is a lot worse. First of all, the accommodations are little better than steerage. Second, the free bar tab turns out not to be so free. And then there is Sonny Walters himself, who seems to change from Captain Steubing to Captain Bligh the instant the ship launches. But worst of all is that amid the limbo contests, bird-watching, and bridge tournaments, enough well-to-do passengers are going belly-up to ruin everyone's vacation.
Cecil was hired to conduct a discreet investigation. But when he finds himself the target of violence, discretion is the last thing on his mind. Adding insult to injury, a hotshot rival PI turns up and points an accusing finger at the perfect Cecil Younger. Suddenly Cecil is out of his depth, far from home, and thinking of only one thing--survival. By the time the S.S. Westward makes landfall up the Alaskan coast, Cecil may just wish he was back chasing chickens in Sitka instead of sleeping with the fishes.
John Straley lives in Sitka, Alaska, with his young son and wife, a marine biologist who studies whales. He is the Shamus Award-winning author of The Woman Who Married a Bear, The Curious Eat Themselves, The Music of What Happens, and Death and the Language of Happiness.
---