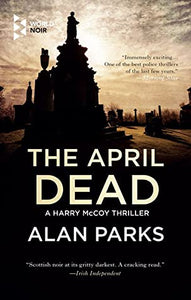 The April Dead (Used Book) - Alan Parks
When an American sailor from the Holy Loch Base goes missing, Harry McCoy is determined to find him. But as he investigates, a wave of bombings hits Glasgow – with the threat of more to come. Soon McCoy realises that the sailor may be part of a shadowy organisation committed to a very different kind of Scotland. One they are prepared to kill for.

Meanwhile Cooper, McCoy's long-time criminal friend, is released from jail and convinced he has a traitor in his midst. As allies become enemies, Cooper has to fight for his position and his life. He needs McCoy to do something for him. Something illegal.

McCoy is running out of time to stop another bomb, save himself from the corrupt forces who want to see him fail and save the sailor from certain death. But McCoy discovers a deeper, darker secret – the sailor is not the first young man to go missing in April. 
Paperback
1108ML
---