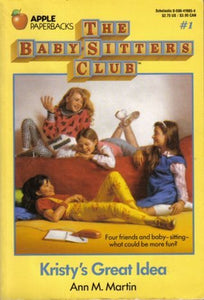 The Baby-Sitters Club Bundle #1 - Ann M. Martin (Lot of 15 Vintage Paperbacks)
First 15 books in the classic Baby-Sitter's Club series!
Titles Include:
#1: Kristy's Great Idea
#2: Claudia and the Phantom Phone Calls
#3: The Truth About Stacey
#4: Mary Anne Saves the Day
#5: Dawn and the Impossible Three
#6: Kristy's Big Day
#7: Claudia and Mean Janine
#8: Boy-Crazy Stacey
#9: The Ghost at Dawn's House
#10: Logan Likes Mary Anne!
#11: Kristy and the Snobs
#12: Claudia and the New Girl
#13: Good-bye Stacey, Good-bye
#14: Hello, Mallory
#15: Little Miss Stoneybrook... and Dawn
Condition: Vintage, used books in Good condition. Some copies have slight shelf wear, but good readable copies. 
---