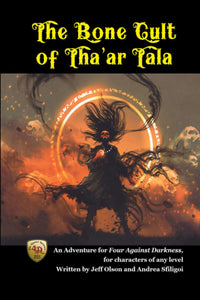 The Bone Cult of Tha'ar Tala (Used Paperback) - Jeff Olson
The outlawed Bone Cult of Tha'ar Tala has kidnapped children from the streets of Paraxi, to use them in their dark rites. Your party is hired to save the children and clean out the cult. Rumor has it that they are hiding in a ruined temple of Elidra, near a forest a few miles from town.
This is a four-chapter adventure for Four Against Darkness for characters of all levels.
Only a copy of Four Against Darkness is required to play.
---