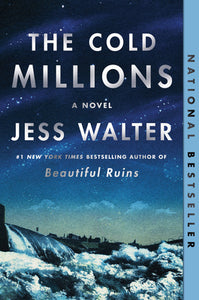 The Cold Millions (Used Paperback) - Jess Wlater
The Dolans live by their wits, jumping freight trains and lining up for day work at crooked job agencies. While sixteen-year-old Rye yearns for a steady job and a home, his older brother, Gig, dreams of a better world, fighting alongside other union men for fair pay and decent treatment. Enter Ursula the Great, a vaudeville singer who performs with a live cougar and introduces the brothers to a far more dangerous creature: a mining magnate determined to keep his wealth and his hold on Ursula.

Dubious of Gig's idealism, Rye finds himself drawn to a fearless nineteen-year-old activist and feminist named Elizabeth Gurley Flynn. But a storm is coming, threatening to overwhelm them all, and Rye will be forced to decide where he stands. Is it enough to win the occasional battle, even if you cannot win the war?
0919SR
---