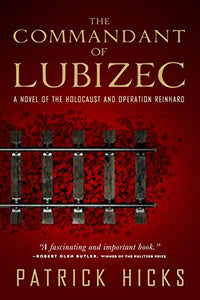 The Commandant of Lubizec (Used Paperback) - Patrick Hicks
After the Nazis invaded Poland in 1939, they quickly began persecuting anyone who was Jewish. Millions were shoved into ghettos and forced to live under the swastika. Death camps were built and something called "Operation Reinhard" was set into motion. Its goal? To murder all the Jews of Poland.

The Commandant of Lubizec is a harrowing account of a death camp that never actually existed but easily could have in the Nazi state. It is a sensitive, accurate retelling of a place that went about the business of genocide. Told as a historical account in a documentary style, it explores the atmosphere of a death camp. It describes what it was like to watch the trains roll in, and it probes into the mind of its commandant, Hans-Peter Guth. How could he murder thousands of people each day and then go home to laugh with his children? This is not only an unflinching portrayal of the machinery of the gas chambers, it is also the story of how prisoners burned the camp to the ground and fled into the woods. It is a story of rebellion and survival. It is a story of life amid death.

With a strong eye towards the history of the Holocaust, The Commandant of Lubizec compels us to look at these extermination centers anew. It disquiets us with the knowledge that similar events actually took place in camps like Bełzec, Sobibór, and Treblinka. The history of Lubizec, although a work of fiction, is a chillingly blunt distillation of real life events. It asks that we look again at "Operation Reinhard". It brings voice to the silenced. It demands that we bear witness. 
1003ML
---