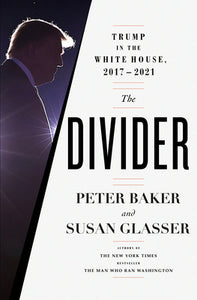 The Divider: Trump in the White House, 2017-2021 (Used Hardcover) - Peter Baker, Susan Glasser
From top journalists and bestselling authors of The Man Who Ran Washington, the first history and assessment of the full Trump presidency, based on unprecedented access to key players, including the man himself


Revered journalists Peter Baker of the New York Times and Susan Glasser of The New Yorker tell the inside story of the four years when Donald Trump went to war with Washington and the institutions of American democracy, from its chaotic beginning to its violent finale. While other books have looked at parts of the Trump era, this is the only history of the entire disruptive Trump presidency, recounting not just what happened during his dramatic final days in office but the four years that led up to them.

Trump was an X-ray for America's soul, and Baker and Glasser reveal the behind-closed-doors moments of a president who defied all norms and the moral struggles of those who worked with and for him. Their book is based on unprecedented access to key players from President Trump himself to Cabinet officers, military generals, close advisers, Trump family members, congressional leaders, foreign officials and others, some of whom have never told their story until now.
0815RM
---