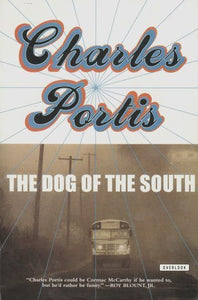 The Dog of the South (Used Paperback) - Charles Portis (1999)
Published in 1999.
The narrator is Ray Midge, down-at-the-heels Southerner after his wife. "Norma had run off with Guy Dupree and I was waiting around for the credit card billings to come in so I could see where they had gone." The fussbudget is assailed by tropical storms, grifters, hippies, car trouble, and candy wrappers at high speed "wind came up through the floor hole in such a way that the Heath wrappers were suspended behind my head in a noisy brown vortex". Leech Dr Reo Symes is a font of dubious financial schemes and fluff such as a circus "fifty-pound rat from the sewers of Paris, France. Of course it didn't really weigh fifty pounds and it wasn't your true rat and it wasn't from Paris, France, either. It was some kind of animal from South America."
Condition: Used book in Good condition, some bends in cover.
---