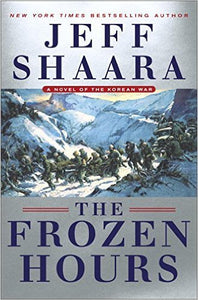 The Frozen Hours (Used Hardcover) - Jeff Shaara
June 1950. The North Korean army invades South Korea, intent on uniting the country under Communist rule. In response, the United States mobilizes a force to defend the overmatched South Korean troops, and together they drive the North Koreans back to their border with China.
But several hundred thousand Chinese troops have entered Korea, laying massive traps for the Allies. In November 1950, the Chinese spring those traps. Allied forces, already battling stunningly cold weather, find themselves caught completely off guard as the Chinese advance around the Chosin Reservoir in North Korea. A force that once stood on the precipice of victory now finds itself on the brink of annihilation. Assured by General Douglas MacArthur that they would be home by Christmas, the soldiers and Marines fight for their lives against the most brutal weather conditions imaginable--and an enemy that outnumbers them more than six to one.
The Frozen Hours tells the story of Frozen Chosin from multiple points of view: Oliver P. Smith, the commanding general of the American 1st Marine Division, who famously redefined defeat as "advancing in a different direction"; Marine Private Pete Riley, a World War II veteran who now faces the greatest fight of his life; and the Chinese commander Sung Shi-Lun, charged with destroying the Americans he has so completely surrounded, ever aware that above him, Chairman Mao Tse-Tung watches his every move.
0627SR
---