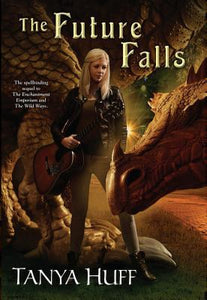 The Future Falls (Used Book) - Tanya Huff
The Gale family can change the world with the charms they cast, which has caused some supernaturally complicated family shenanigans in the past. So when NASA and Doomsday Dan confirm Auntie Catherine's dire prediction, Charlotte "Charlie" Gale turns to the family for help.

But Allie is unavailable because the universe seems determined to have her produce the seventh son of a seventh son of a seventh son of a Gale.  And the Aunties can't help because they're tied to the earth – although they are happy to provide their delicious, trademark pies.  And in the end, all Charlie has is a guitar...and Jack. The Dragon Prince, and a Sorcerer.

But Charlie might like Jack just a little too much, and Jack might like Charlie a little too much in return. Actually, between Allie's hormones, the Aunties trying to force her and Jack into ritual, the Courts having way too much fun at the end of days, and Jack's sudden desire to sacrifice himself for the good of the many, Charlie's fairly certain that the asteroid is the least of her problems.

The Gales are going to need more than pie to save the world from an incoming asteroid. But together there isn't anything they can't deal with – except possibly each other.
Gale Women #3
Hardcover
0615LO
---