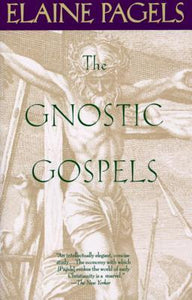 The Gnostic Gospels (Used Book) - Elaine Pagels
The Gnostic Gospels is a landmark study of the long-buried roots of Christianity, a work of luminous scholarship and wide popular appeal. First published in 1979 to critical acclaim, winning the National Book Award and the National Book Critics Circle Award, The Gnostic Gospels has continued to grow in reputation and influence over the past two decades. It is now widely recognized as one of the most brilliant and accessible histories of early Christian spirituality published in our time.

In 1945 an Egyptian peasant unearthed what proved to be the Gnostic Gospels, thirteen papyrus volumes that expounded a radically different view of the life and teachings of Jesus Christ from that of the New Testament. In this spellbinding book, renowned religious scholar Elaine Pagels elucidates the mysteries and meanings of these sacred texts both in the world of the first Christians and in the context of Christianity today.

With insight and passion, Pagels explores a remarkable range of recently discovered gospels, including the Gospel of Thomas and the Gospel of Mary Magdalene, to show how a variety of "Christianities" emerged at a time of extraordinary spiritual upheaval. Some Christians questioned the need for clergy and church doctrine, and taught that the divine could be discovered through spiritual search. Many others, like Buddhists and Hindus, sought enlightenment — and access to God — within. Such explorations raised questions: Was the resurrection to be understood symbolically and not literally? Was God to be envisioned only in masculine form, or feminine as well? Was martyrdom a necessary — or worthy — expression of faith? These early Christians dared to ask questions that orthodox Christians later suppressed — and their explorations led to profoundly different visions of Jesus and his message.

Brilliant, provocative, and stunning in its implications, The Gnostic Gospels is a radical, eloquent reconsideration of the origins of the Christian faith.
Paperback
---