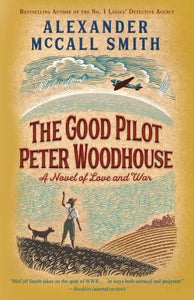 The Good Pilot Peter Woodhouse (Used Paperback) - Alexander McCall Smith
From the beloved and best-selling author of the No. 1 Ladies' Detective Agency series comes a heartwarming tale of hope and friendship set amid the turmoil of World War II.

Val Eliot, a young woman working on an English farm during the war, meets Mike, a U.S. Air Force pilot stationed nearby. When Val rescues a Border Collie named Peter Woodhouse, who is being mistreated by his owner, she realizes the dog would actually be safer with Mike. And so Peter Woodhouse finds a new home on the air force base, and Val finds herself falling in love. Peter Woodhouse becomes Dog First Class, a canine mascot on the base who boldly accompanies the officers on their missions, and Val becomes Mike's fiancée. But then a disaster jeopardizes the future of them all, and Peter Woodhouse brings Ubi, a German corporal, into their orbit, sparking a friendship that comes with great risk but carries with it the richest of rewards.

Infused with Alexander McCall Smith's renowned charm and warmth, The Good Pilot Peter Woodhouse is an uplifting story of love and the power of friendship to bring sworn enemies together.
0912ML
---