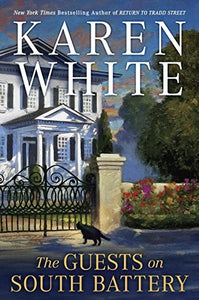 The Guests on South Battery (Used Hardcover) - Karen White
Melania Middleton longs for a quiet everyday life, but while managing the sale of old buildings in Charleston, she constantly encounters secrets every time she crosses the threshold of those houses.

Melania is still getting used to her new life, but she has to go back to work after her maternity leave. But her return to the world of real estate seems to be going much better than she could have hoped. Melania's new client, Jane Smith, the heir to a historic house on South Battery Street, is determined to sell it as soon as possible. Suddenly, when all the clocks start to strike ten minutes to four o'clock and mysterious phone calls are getting more and more frequent, Melania becomes convinced that the spirits that have been silent for more than a year are about to come back to life. Why did Jane, who has no connection to the Pickney family, inherit their house, and what do the spirits that keep appearing nearby have to say?

Melania knows that digging into the past does not bode well. But some secrets must be revealed.
0912ML
---