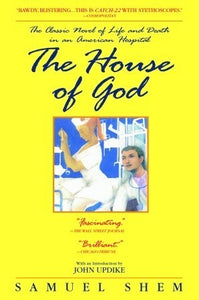 The House of God (Used Paperback) - Samuel Shem
The hilarious novel of the healing arts that reveals everything your doctor never wanted you to know.
Six eager interns—they saw themselves as modern saviors-to-be.   They came from the top of their medical school class  to the bottom of the hospital staff to serve a  year in the time-honored tradition, racing to answer  the flash of on-duty call lights and nubile  nurses.
But only the Fat Man—the Clam, all-knowing resident—could sustain them in their struggle to survive, to stay sane, to love and even to be doctors when their harrowing year was done.
---