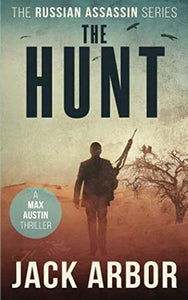 The Hunt (Used Paperback) - Jack Arbor
Friends are the family we chose for ourselves.

A man on a mission to save his family. A friend missing and presumed dead.

Max Austin is no stranger to mortal danger and hard decisions. But when the former KGB assassin is confronted by the choice to rescue a friend or save his family, he'll have to dig deep to keep those he cares about alive.

Haunted by a mysterious shadow that dogs him at every turn, he journeys through the treacherous Turkish desert, the harsh confines of Washington, DC, and the dirty alleyways of Cyprus searching for clues from his past. Along the way, he finds himself a step behind his adversaries who are intent on eliminating Kate Shaw before she can reveal her secrets. This time, failure in Max's quest will mean death for his friends and family alike.

Will he find Kate Shaw, or will this be Max's last mission?

Max Austin, #4
0809LO
---