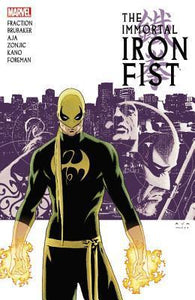 The Immortal Iron Fist Complete Collection 1 & 2 (Lot of 2 TPB)
Experience a brand-new kind of Iron Fist story, one steeped in legends and fables stretching back through the centuries! Orphaned as a child and raised in the lost city of K'un-Lun, Danny Rand returned to America as the mystical martial artist Iron Fist - but all his kung fu skills can't help him find his place in the modern world. After learning that the legacy of the Iron Fist holds more secrets than he ever dreamed, Danny is invited to fight in a tournament against the Immortal Weapons. At stake is the life of his friend, the legacy of his father and mentor...and the future of K'un-Lun!
Condition: Both books are used and in Good or better condition. 
Trade Paperback
---