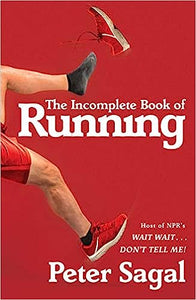 The Incomplete Book of Running (Used Hardcover) - Peter Sagal
Just before turning forty, Sagal—brainiac Harvard grad, short bald Jew with a disposition toward heft, and sedentary star of public radio who had exercised sporadically as a teenager—started running seriously. A decade later, what began as a simple mission to keep himself healthy had evolved into fourteen marathon finishes—including one in Boston in 2013, where he crossed the line only moments before two bombs went off—and tens of thousands of miles on roads, sidewalks, paths, and trails all over the United States and the world. Running was an important part of his life, but it wasn't until he experienced a personal crisis that he realized it had become a mode of survival.

In these pages, Sagal writes with humor and insight about the moments that have changed the way he sees the relationship between life and sport—from running a charity race in his underwear (in St. Louis, in February) and attempting to "quiet his colon" while taking a lap in his neighborhood to volunteering as a guide for visually impaired runners, causing a scandal by sneaking onto a course midrace, and making his triumphant post-bombing return to Boston in 2014. He also dives deep into the emotional experience of running, body image, the similarities between endurance sports and sadomasochism, the legacy of the sport as passed down from parent and child, and the odd but extraordinary bonds created among strangers and friends sharing the road. As time goes on and his mileage increases, he realizes that the only way to overcome obstacles is simply to keep running through them.

Candid, clear-eyed, and frequently hilarious, The Incomplete Book of Running is about more than just a man and a sport. It is a field guide to life, a collection of lessons centered around all those things that keep us moving forward: hope, persistence, practice, and love.
0724RT
---