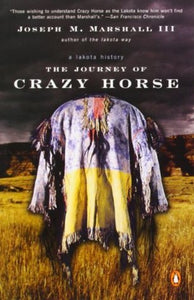 The Journey of Crazy Horse: A Lakota History (Used Paperback) - Joseph M. Marshall III
A captivating biography of the man who became a legend at the Battle of the Little Bighorn

As a brilliant leader of a desperate cause and one of the most perennially fascinating figures of the American West, Crazy Horse crushed Custer's 7th Cavalry and brought the United States Army to its knees. Now, with the help of celebrated historian Joseph Marshall, we finally have the opportunity to know Crazy Horse as his fellow Lakota Indians knew him.

Drawing on extensive research and a rich oral tradition that it rarely shared outside Native American circles, Marshall - himself a descendent of the Lakota community that raised Crazy Horse - creates a vibrant portrait of the man, his times, and his legacy. From the powerful vision that spurred him into battle to the woman he loved but lost to duty and circumstance, this is a compelling celebration of a culture, an enduring way of life, and the unforgettable hero who remains a legend among legends.

0918RT
---