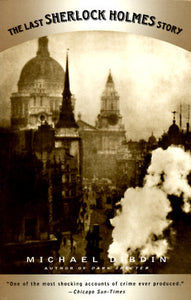 The Last Sherlock Holmes Story (Used Book) - Michael Dibdin
In 1888 Sherlock Holmes is languishing for a criminal case worthy of his powers, then one materializes, heralded by the spatter of gore and the shriek of headlines. For in vice-ridden Whitechapel, three female paupers of dubious morals have been murdered, their bodies hideously defiled. And in taunting letters their killer announces his intention to strike again—and signs his name "Jack the Ripper."

As conceived by the award-winning mystery writer Michael Dibdin, The Last Sherlock Holmes Story is a brilliantly inventive updating of the Holmes legend. Pitting master detective against archfiend, steely rationalism against satanic depravity, Dibdin gives us a Holmes who is more complex, more human, and ultimately more fascinating than the one imagined by Arthur Conan Doyle. Here is a riveting combination of history and fiction that confirms Dibdin's reputation as one of the most imaginative and atmospheric crime writers now at work.
Paperback
---