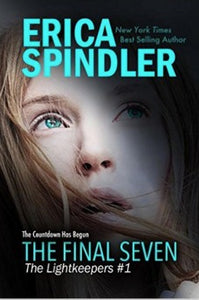 The Lightkeepers #1: The Final Seven (Used Paperback) - Erica Spindler
The first Saturday in July. . . A missing coed . . .The number seven carved into her door . . .

The countdown has begun.

New Orleans Detective Micki Dee Dare is a seasoned, no-nonsense cop. She doesn't need a partner, especially not Zach "Hollywood" Harris, an irreverent charmer, fresh out of an experimental FBI program. And her assignment -- keep him alive while he fights crime using the special skills he brings to the table -- is not what she signed up for. But the die has been cast and there's nothing she can do about it.

Micki soon realizes there's more to her partner than meets the eye--and more at stake than catching bad guys and closing cases. There's a new kind of evil at work the Crescent City, more cunning, more powerful than any she's ever encountered. And she and Zach may be the only ones who can stop it.

As another coed goes missing and the darkness closes in, Micki must face a terrifying truth: this time she might not make it. This time the evil they're facing might destroy them all . . .

Full of surprise twists and unexpected turns, The Final Seven is a heart-pounding thriller that will keep you on the edge of your seat until the very last page.
0728AE
---