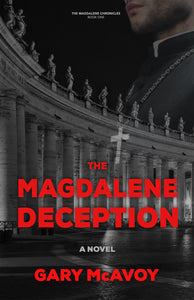 The Magdalene (Used Paperback) - Gary McAvoy
A forbidden secret . . . The Church's fate in the balance . . . Will a pair of amateur sleuths expose a truth that could upend the Christian world? 

Jesus' resurrection is a cornerstone of Christian faith. But when a clue surfaces that hints at an alternate account, the ramifications stand to change Christianity forever.

Jesuit priest Michael Dominic's assignment to the Vatican's legendary Secret Archives results in his discovery of a hidden papyrus: the unpublished writings of Mary Magdalene — a lost record buried in Rome's deepest recesses. The forgotten relic's heretical revelation threatens the Vatican's very legitimacy, and pits Michael against ruthless and powerful enemies.

Desperate, he reaches out to Hana Sinclair, an investigative reporter with a record of tackling contentious subjects. Together they defy the Church elite, and embark on a search through the shadows of history to unearth the truth. As the pressure builds to silence the pair, will the Vatican resort to the unthinkable in order to safeguard its wealth and power?
0905SR
---