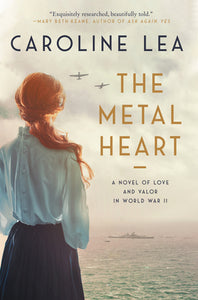 The Metal Heart (Used Paperback) - Caroline Lea
"The story of true innocents caught up in the machinery of war. Exquisitely researched, beautifully told, this tiny corner of Scotland came alive for me in all of my senses and I found myself rooting for the central characters with all my heart."     —Mary Beth Keane, author of Ask Again, Yes

In the dark days of World War II, an unlikely romance blossoms between a Scottish woman and an Italian prisoner of war in this haunting novel with the emotional complexity of The Boat Runner and All the Light We Cannot See—a powerful and atmospheric story of love, jealousy, and conscience that illuminates the beauty of the human spirit from the author of The Glass Woman.

In the wake of the Allies' victory in North Africa, 500 Italian soldiers have been sent to a remote island off the Scottish coast to wait out the war. Their arrival has divided the island's community. Nerves frayed from three years of war and the constant threat of invasion, many locals fear the enemy prisoners and do not want them there.

Where their neighbors see bloodthirsty enemies, however, orphaned sisters Dorothy and Constance see sick and wounded men unused to the freezing cold of an Orkney winter, and volunteer to nurse them. While doing so Dorothy finds herself immediately drawn to Cesare, a young man broken by the horrors of battle.

But as the war drags on, tensions between the islanders and the outsiders deepen, and Dorothy's connection to Cesare threatens the bond she shares with Constance. Since the loss of their parents, the sisters have relied on each other. Now, their loyalty will be tested, each forced to weigh duty against desire . . . until, one fateful evening, a choice must be made, one that that will have devastating consequences.
0711ML
---