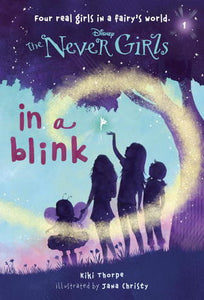 The Never Girls In a Blink (Used Paperback) - Kiki Thorpe
The Disney Fairies star in a magical all-new early chapter book series for kids ages 6 to 10-The Never Girls!

The smell of salt water, a gust of seabreeze, and the bell-like ringing of a fairy's laugh are the only hints that something magical is happening to Kate, Mia, Lainey, and Gabby. In a blink of an eye, the four friends are whisked out of their ordinary lives to the most wonderful place of all-Never Land, home to fairies, mermaids...and now four lost girls. The girls don't want to leave right away, but Queen Clarion and Tinker Bell have figured out a way for them to get home. Will Kate, Mia, Lainey, and Gabby's fantastic adventure end before it's barely begun?
Some wear
0607JA

---