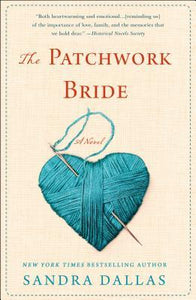 The Patchwork Bride (Used Paperback) - Sandra Dallas
From the best-selling author of A Quilt for Christmas comes the irrepressible story of a runaway bride.

Ellen is putting the finishing touches on a wedding quilt made from scraps of old dresses when the bride-to-be—her granddaughter June—unexpectedly arrives and announces she's calling off the marriage. With the tending of June's uncertain heart in mind, Ellen tells her the story of Nell, a Kansas-born woman who goes to the High Plains of New Mexico Territory in 1898 in search of a husband.

Working as a biscuit-shooter, Nell falls for a cowboy named Buddy. She sees a future together, but she can't help wondering if his feelings for her are true. When Buddy breaks her heart, she runs away.

In her search for a soul mate, Nell will run away from marriage twice more before finding the love of her life. It's a tale filled with excitement, heartbreak, disappointment, and self-discovery—as well as with hard-earned life lessons about love. Another stunning, emotional novel from a master storyteller.
0627ML
---