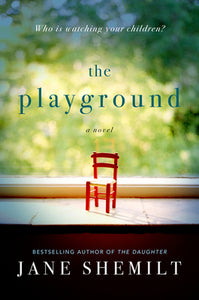 The Playground (Used Book) - Jane Shemilt
Over the course of a long, hot summer in London, the lives of three very different married couples collide when their children join the same tutoring circle, resulting in illicit relationships, shocking violence, and unimaginable fallout.

There's Eve, a bougie earth mother with a well-stocked trust fund; she has three little ones, a blue-collar husband and is obsessed with her Instagrammable recipes and lifestyle. And Melissa, a successful interior designer whose casually cruel banker husband is careful not to leave visible bruises; she curates her perfectly thin body so closely she misses everything their teenage daughter is hiding. Then there's Grace, a young Zimbabwean immigrant, who lives in high-rise housing project with her two children and their English father Martin, an award-winning but chronically broke novelist; she does far more for her family than she should have to.

As the weeks go by, the couples become very close; there are barbecues, garden parties, a holiday at a country villa in Greece. Resentments flare. An affair begins. Unnoticed, the children run wild. The couples are busily watching each other, so distracted and self-absorbed that they forget to watch their children. No one sees the five children at their secret games or realize how much their family dynamics are changing until tragedy strikes.

The story twists and then twists again while the three families desperately search for answers. It's only as they begin to unravel the truth of what happened over the summer that they realize evil has crept quietly into their world.

But has this knowledge come too late?
Paperback
0307xBC
---