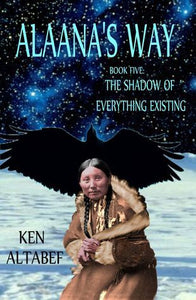 The Shadow of Everything Existing (Used Book) - Ken Altabef
The Moon is dead.

After amassing incredible new power the Tunrit sorcerer Vithrok seems unstoppable. Alaana, the embattled Anatatook shaman, is joined by a cadre of shamans both living and dead. Together they embark on a plan to unite the remaining great spirits in one final attempt to stop the sorcerer from remaking the world.

But what will the trickster Raven do? Will he aid Alaana to fulfill a destiny that will decide the fate of the entire world? Or will he opt for total destruction?

This book is the stunning conclusion of an epic fantasy series with a unique arctic setting. All fans of fantasy will enjoy these five novels.
Paperback
0504RM
---