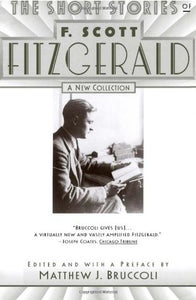 The Short Stories of F. Scott Fitzgerald (Used book)- edited by Matthew J. Bruccoli
Today F. Scott Fitzgerald is better known for his novels, but in his own time, his fame rested squarely on his prolific achievement as one of America's most gifted writers of stories and novellas. Now, a half-century after the author's death, the premier Fitzgerald scholar and biographer, Matthew J. Bruccoli, has assembled in one volume the full scope of Fitzgerald's best short fiction: forty-three sparkling masterpieces, ranging from such classic novellas as "The Rich Boy," "May Day," and "The Diamond as Big as the Ritz" to his commercial work for the Saturday Evening Post and its sister "slicks."
For the reader, these stories will underscore the depth and extraordinary range of Fitzgerald's literary talents. Furthermore, Professor Bruccoli's illuminating preface and introductory headnotes establish the literary and biographical settings in which these stories now shine anew with brighter luster than ever.
Paperback 
0112RM

---