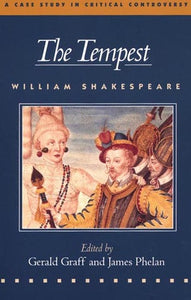 The Tempest (Used book) - WIlliam Shakespeare
Designed for teaching the conflicts, this critical edition of Shakespeare's The Tempest reprints the Bevington text of the play along with critical essays representing major critical and cultural controversies surrounding the work. The play and essays are supported by distinctive editorial material -- including introductions to Shakespeare's life and work, to critical conflicts in literary studies, and to each controversy that helps students grapple not only with the play's critical issues but also with cultural debates about literature itself.

Contents:
Shakespeare and The Tempest --
The life and work of William Shakespeare --
Text of the Tempest --
A case study in critical controversy --
Why study critical controversies about the Tempest --
Literary study, politics, and Shakespeare: A debate --
Sources and contexts --
Shakespeare and the Power of Order --
postcolonial challenge --
responding to the challenge --
feminist challenge.
Paperback
0630RM
---