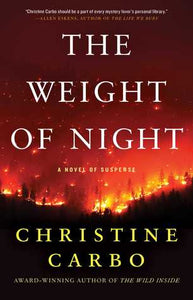 The Weight of Night (Used Paperback) - Christine Carbo
On most days, the wilderness gave me peace. But not tonight.

In a land sculpted by glaciers, the forest is on fire. Thick smoke chokes the mountain air and casts an apocalyptic glow over the imposing peaks and vistas of Montana's Glacier National Park. When firefighters are called in to dig firebreaks near the small town bordering the park, a crew member is shocked to unearth a shallow grave containing human remains.

Park Police Officer Monty Harris is summoned to the site to conduct an excavation. But with an incendiary monster threatening to consume the town, Monty seeks help from Gretchen Larson, the county's lead crime scene investigator.

While the two work frantically to determine the true identity of the victim, a teenager suddenly disappears from one of the campgrounds in Glacier. Could the cases somehow be connected? As chances for recovery of the missing boy grow slimmer and the FBI finds only dead ends, Gretchen and Monty desperately race to fit all the pieces together while battling time, the elements, and their own unresolved inner conflicts.
0530SR
---